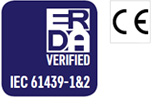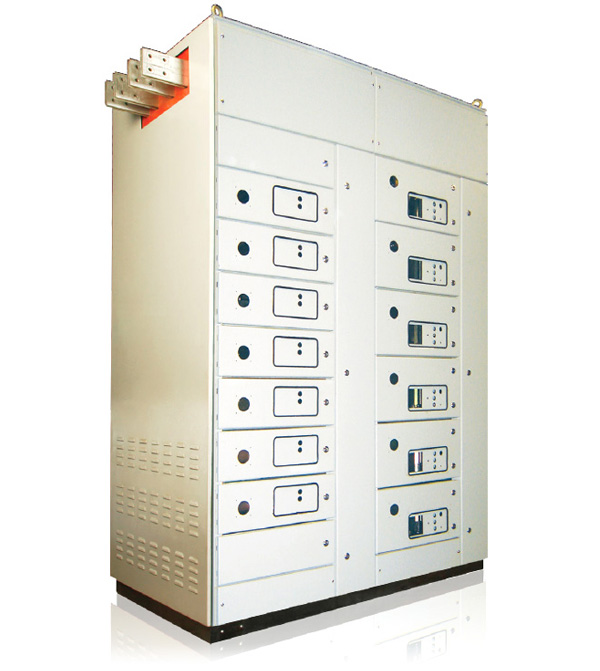 Type tested to conform to leading Global Product Standards. (IEC-61439-1 & 2).
Fully Compartmentalized (Form IV) Design.
Drawout modules have swiveling lever mechanism for tool-less withdrawal.
Drawout modules plug-in directly on to Vertical Bus Bar, minimizing maintenance issues.
Vertical Bus is Joint-free along the feeder area, therefore is highly reliable.
Spring Loaded positive safety shutter providing IP 20 levels of segregation upon withdrawal.
Shock-free operation with Double Stab-in earthing in all Drawout modules.
Fully Bolted Modular Structural design.
Drawout Modules have position indication for Test, Service & Isolated.
Drawout Modules available in 3 Pole for Starter feeders & 4 Pole for Power feeders.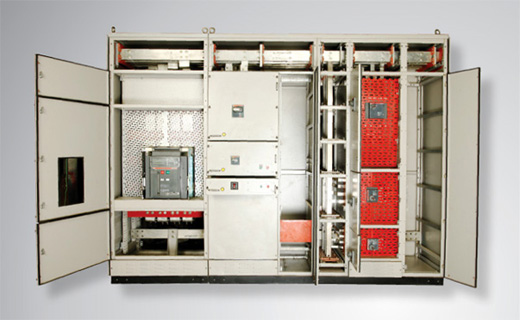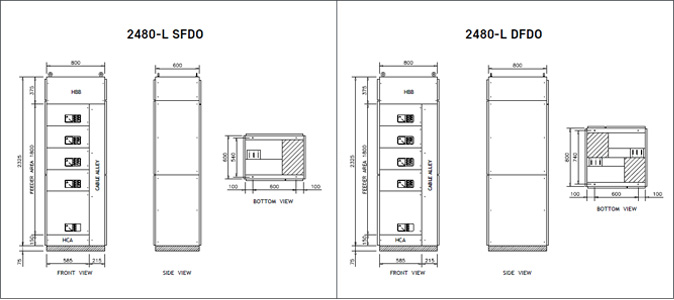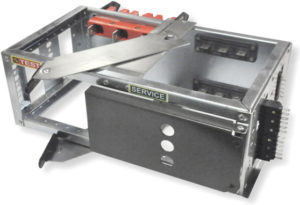 Drawout Modules available in sizes from 200mm to 900mm in multiples of 100mm in height.
Feeder width of 585mm & depth of 250mm.
Higher ratings provided using combination of two feeders with common door interlock.
Upto 9 feeders in one vertical stack.
Feeder ratings upto 110kw DOL possible in 900mm.
Max. possible feeder rating upto 150kw DOL in 1500mm.
Drawout Power & Control Contacts tested as part of Drawout Module during Full Type Test for Temperature Rise, Milli-volt Drop & other related tests in accordance with IEC-61439-1 & 2.
Drawout Power Contact ratings:

63A | 125A | 250A | 400A
Available in 1 Pole, 2 Pole, 3 Pole & 4 Pole.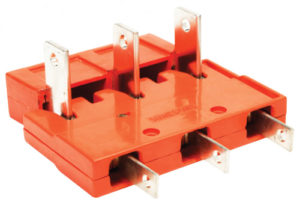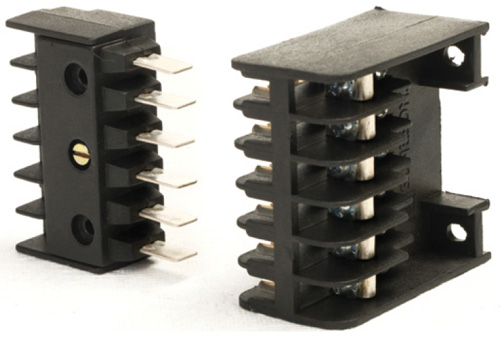 Feeder width of 585mm with twin fully offset control terminals.
Minimum feeder size of 200mm can accommodate 24 control terminals.
Keeping the modules compact and making the panel space efficient.
Drawout Control Contact ratings:

12A | 16A
Available in 6-Way & 10-Way Blocks.
Specifications
STANDARDS
IS 8623, IEC 61439 – 1&2
Insulation Characteristics
Clearance
> 20 mm
Creepage distances
> 20 mm
Overvoltage category
II / III / IV
Pollution degree
3
Field condition
Inhomogeneous (Non-uniform)
Electrical Characteristics
Voltage ratings
Rated operational voltage (U ) e
415-690 VAC, 24-220 VDC
Rated insulation voltage (U ) i
690 V
Rated impulse withstand voltage (U ) imp
6 / 8 kV
Rated frquency (f ) n
50 / 60 Hz
Current Ratings
Main Horizontal busbars:
Rated current (I ) nA
up to 4000 A
Rated peak withstand current (I ) pk
up to 105 kA
Rated short-time withstand current (I ) cw
up to 50 kA, 1s
Vertical Distribution busbars :
Rated current (I ) nA
960A
Rated peak withstand current (I ) pk
up to 105 kA
Rated short-time withstand current (I ) cw
up to 50 kA, 1s
Mechanical Characteristics
Degree of protection
In accordance with IEC 60529:
External
IP 4X/54
Internal
IP 2X
Forms of separation
as per IEC 61439 – 2
Form III/IV
Dimensions
Height (mm)
2200, 2400
Width (mm)
600, 700, 800, 900, 1000, 1100 (ACB section)
1000, 1300, 2200 (Outgoing section)
Depth (mm)
800, 1000, 1200 (ACB section)
800, 1000, 1200 (Outgoing section)
Surface Treatment
Structure
GI-280 / powder coated / painted
Internal Components
GI-280 / powder coated / painted
External Components
Powder coated / painted
Resistance to Connection
Damp heat cycling test
EC 60068-2-30
Salt mist test
IEC 60068-2-11
Plastic Components
Flame retardant, self-extinguishing, Halogen-free
IEC 60695-2-10, IEC 60695-2-11